Virtual Selling
Sell More Deals With Finance Options
Learn more about our new feature that allows contractors to concisely show options side-by-side and easily present financing options to the homeowner.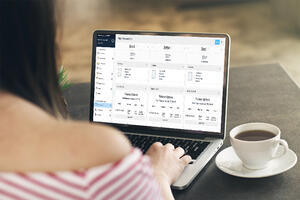 The One Click Contractor platform provides contractors the ability seamlessly offer financing right in the estimating system. "Price Presentation and Project Summary" increases the number of financed jobs and increases your close rate. We do this by allowing contractors to concisely show options side-by-side and easily present financing options to the homeowner ON EVERY JOB THEY QUOTE.
We've received a lot of feedback from our customers that they wanted a better way to show project details, pricing and financing options when presenting to the customer.
Well, you asked, and we delivered. Introducing Price Presentation.
What does it do?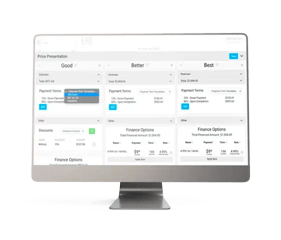 The new Price Presentation tool offers you a dynamic way of reviewing the job scope with customers and allows you to not only present the overall price, but also go through different material options, discounts offered, and ensure you are offering financing on every job.
Our goal was to provide you with a clear, concise way to present fluid pricing. We know not everyone wants their customers seeing individual line items. By utilizing Price Presentation, you are able to make adjustments and provide flexibility without having to give your customer access to the backend pricing by jumping to your estimate or proposal. Instead, all of those changes can be made right in the Price Presentation tool.
Why should I use it?
Our development team created this tool based on customer feedback! We always want to find ways to better our platform and provide options to our customers since everyone's sales process is different.
The main goal of the Price Presentation tool is to provide contractors with something that is more formal than an estimate but gives you negotiating room to work with customers so that you can close the job faster without creating confusion with all the line-item detail pricing.
How can it be used?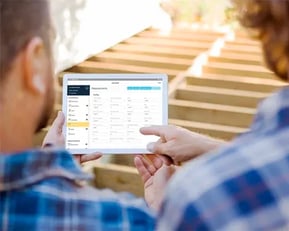 Check out a few examples of how it can be used below.
Exterior contractor:
Let's use roofing as an example. If you have a customer that needs a new roof, the cost is a considerable investment and may make them feel overwhelmed. Our Price Presentation tool allows you to offer them options like 3 tab, architectural and designer options for shingles so that you can walk them through warranty options, benefits of each material, and how it affects their overall price so they can decide what they feel comfortable with. Our tool also allows you to offer them a summary of the total price broken down by each material option that you can then add discounts too and show them their monthly payment if they chose to utilize financing.
Interior contractor: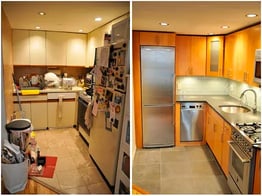 We will use a kitchen remodel as this example. Do you have customers that come in and ask for multiple quotes? Maybe one includes a full rework: moving plumbing, new cabinets, countertops, backsplash, flooring, appliances, etc. whereas one is just cosmetic so painting cabinets, new hardware and maybe flooring. When having your sales call, you need to jump between multiple proposals which can be stressful to make sure you don't end up showing your estimate by mistake. The Price Presentation tool allows you to have one screen with both quotes broken down so they can decide which they want to move forward with, no jumping around or opening multiple windows!
Want to see how this looks in action?
---
Have questions or are interested in learning more about the Price Presentation tool? Our consultants are standing by and would be happy to help.