Virtual Selling
Feeling Together While We're Apart - The Secrets To Our Success
The last 3 months have been a blur, a good blur. The team wanted to share some of our incredible growth secrets through working together while miles apart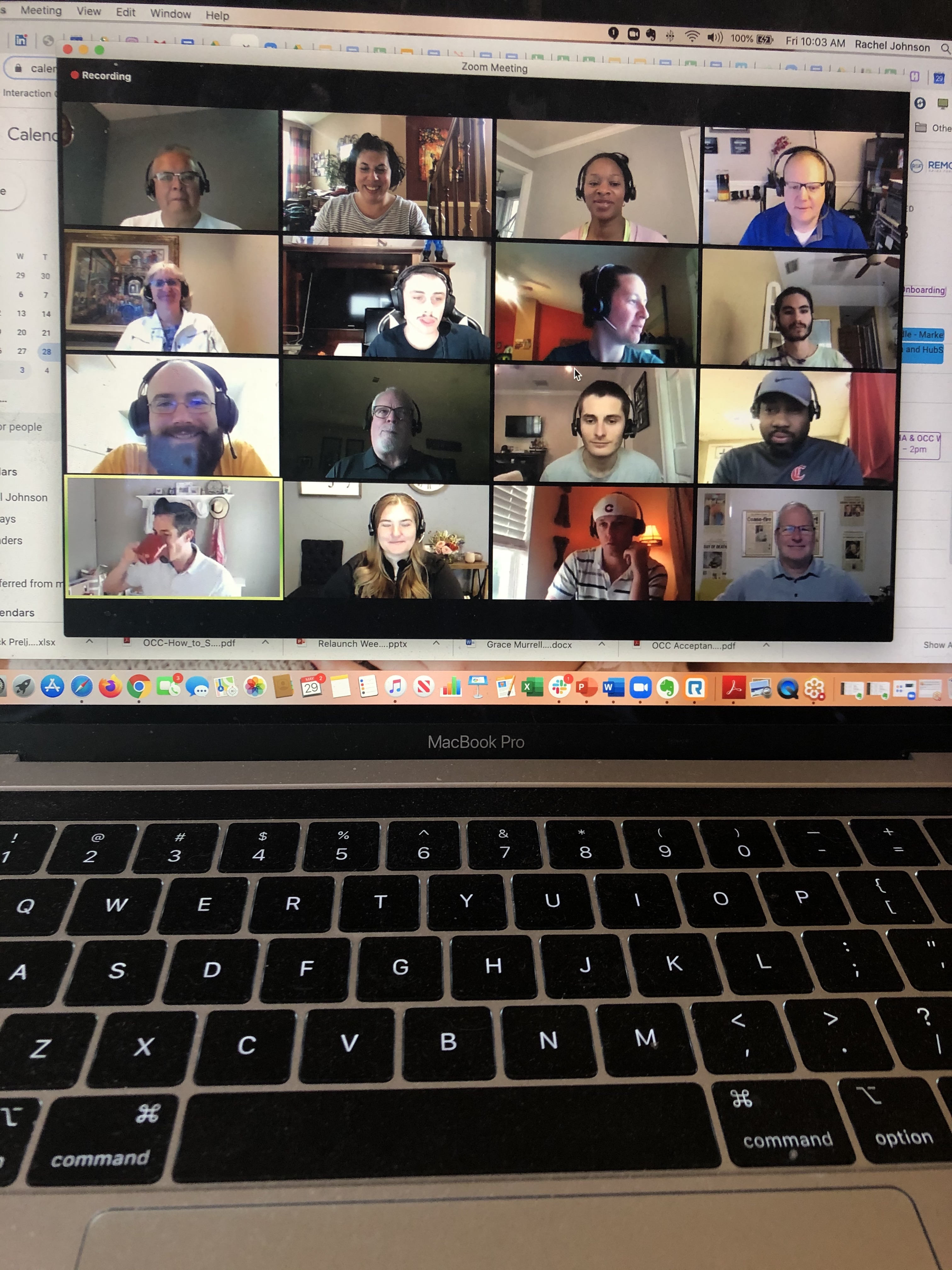 The last 3 months at One Click Contractor have been a blur, a good blur. Prior to March 2020, virtual selling in the home improvement space was seen as cutting edge and very few were engaged and prepared to sell this way. Some contractors couldn't fathom selling a roof, a kitchen remodeling project, or siding, without sitting across the kitchen table from the homeowner, especially not setting foot on the property until the day of the job.
Then came COVID-19, the world-wide pandemic that completely flipped the home improvement industry on its head. Overnight, virtual selling technology platforms quickly became a necessity because it was the only way a contractor could continue selling and stay in business. One Click Contractor's all-in-one sales productivity platform became a business necessity instead of just a competitive advantage. The inability to sell virtually in today's climate will result in catastrophic losses resulting in work force reduction and possible closure.
As the outside world was attempting to cope with all the new challenges that accompanied COVID-19, there were many new challenges for the One Click Contractor team as well! We went from a close tightly-knit Indianapolis-based team to a continually growing USA-based team, with over half of our team residing in various locations across the country. Some, who have never met each other in person!

We wanted to share some of our incredible growth secrets and how our team has truly embraced this change, driving the business to new heights.
1. Leaders, don't be afraid to be human
We all have our own struggles when it comes to sheltering in place. Parents with young kids crying in the background of a call, pets barking at the doorbell, empty nesters dealing with having a college student home for months, parents attempting to work while completing state-required e-learning with their kids, or people now having an elderly family member living with them. Nothing about our work-from-home experience right now is normal. Acknowledging that it's ok to be human, it's ok to tend to children if they need help, or assist a distressed pet, or check-in with an elderly family member, all because we are in a constant struggle to balance work and family, and the line is really blurred right now.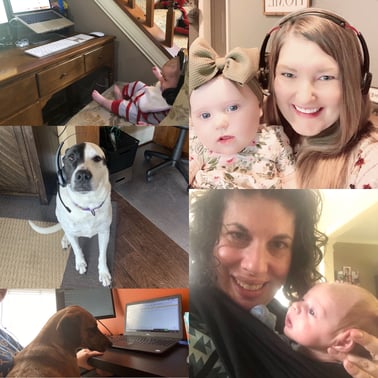 Our leadership was challenged to lead by example when it comes to trying to balance it all. Our COO/CMO Rachel Johnson had a baby in February and came back from maternity leave just as the pandemic began. There were times that she was rocking her son to sleep or baby wearing during an internal meeting because that's what she needed to do. And guess what, everyone understood! She was trying to balance it all. Or when our CTO Chris Thornberry's kids would come into his office to just give him a hug, it was ok because he was showing that he was just being human. One Click Contractor prides itself on taking care of the whole person and helping employees to have a good balance in their life. Because of the circumstances, being flexible and understanding allows employees to take care of business both at home and at work. We've learned that this approach to acting human and being respectful and understanding each employee's current situation, creates more loyal employees that are truly invested in helping the company to succeed. Our employees know we care, and it shows every day in their faces and their performance.
2. Taking time to ALL be together weekly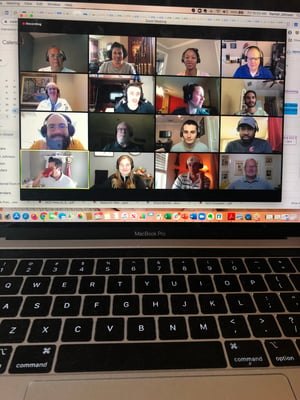 On Friday morning at 10AM EST, the entire One Click Contractor team gets together for an hour weekly to celebrate successes, get a sneak peek at the latest software feature and learn something new with additional training. This meeting is run collectively by the leadership team and is highly anticipated as we all look forward to seeing everyone's smiling faces over the virtual meeting weekly. These meetings are not all informational, we've recently celebrated our CEO Dale Thornberry and our CTO Chris Thornberry's birthdays (same birthday) over a virtual meeting as well. If you want a laugh to try and have a group sing happy birthday over a virtual meeting. Let's just say the One Click team isn't going to be winning any awards for their singing abilities, but funny stints like this are part of embracing the virtual nature of our team. We all look forward to this new weekly tradition.
3. Take the time for genuine & un-programmed conversation to create team bonds
Every team across the business is religious about having daily huddles, however, these huddles are not just about sharing information or discussing how to achieve results. Natural, organic, down-to-earth conversations start every meeting. Why do we always start our meetings this way? Simply because we genuinely enjoy each other's company and this organic conversation is how you solidify bonds, taking employees from just feeling lukewarm about a job to LOVING the people they work with. Taking a moment to catch up and asking how was your daughter's birthday party this past weekend or did you make that new recipe, is part of the bonding you need to create a successful remote team. Our sales and customer engagement team has a huddle at 8am daily and the team is always laughing and joking around even before they finish their first cup of coffee. It is so exciting to see our team bond in this way in a virtual setting.

4. Adapting new technology that makes communication easier
Since we all began working remotely, we've onboarded new teammates, run brainstorming sessions, engaged in product road mapping sessions, tested new features and hosted webinars, all in addition to our "normal" daily meetings and interactions. How did we do it? Adapting new technology applications that make collaboration easier. First, never underestimate the importance of a good headset. Most of our team is on meetings most of the day, so long battery life and clear sound is key.

As far as collaboration and communication, applications like the Google Suite make it easy for multiple people to make last-minute tweaks to a presentation deck before a webinar, or collaborate on a new sales script or training document for our customers. Also, having a reliable and organized place to store documents in the cloud is extremely important . This way anyone on the team can access needed information anywhere, anytime!

Slack has been a cornerstone of our communication. Whether it's doing a quick Slack call or collaborating on a document using screen share, or using team-specific channels to keep information streamlined, it has been an absolute necessity! Also, integrating all customer-facing information with Hubspot, has allowed us to get better visibility into our customers and prospects, and how we can be a good partner to them. This last one was a tool I never anticipated; never underestimate the old-school nature of a good 3-way call. There were many times throughout this work from home period that a member of our team would be on the phone with Dale, our CEO, and we would add another person to the call so we wouldn't have to repeat the conversation to that person at a later time.

5. Don't be afraid to change the plan if the plan isn't working

The mantra over the last 3 months has been, embrace change - test, iterate, reiterate. This is because all of our long-term plans and forecasts have had to change on a dime. Shifting our attention to plan in much shorter planning durations has been one of the keys to the success of the team. Using more agile planning methodologies allows us to shift and move in quicker cycles and not waste too much time re-doing the long-term plans. Our customer engagement team and our marketing team use Trello to be able to plan and prioritize our work. Adopting a weekly schedule for sprint planning meetings instead of bi-weekly has allowed our marketing team to be on top of the most recent priorities for the business because let's face it, a lot can change in two weeks right now! Additionally, there is more cross-collaboration in sprint planning meetings. As an example, there is a sales presence in the marketing sprint planning meetings to ensure all priorities are being heard before work is scheduled for the upcoming week. The hair on many marketers necks might have stood up with that last statement, but incorporating sales and partnerships inputs into sprint planning has allowed the marketing team to focus on revenue generation activities and ensure they are working on the most pressing needs for the business. We challenge you to try inviting someone from an outside team to your sprint planning meetings, you might be surprised by the outcome.
One Click Contractor has truly flourished over the last 3 months, and our ability to help contractors grow their own businesses has been a remarkable result of the team's collective hard work, dedication, creativity, humility, and collaboration. It's amazing what we can truly accomplish together even when we're separated by distance. We look forward to sharing the future successes of this incredible team with you!