Home Improvement
Just Launched: One Click Contractor New Product Enhancements - March
Check out the newest enhancements to our platform. See enhancements with markup pricing and a new financing integration

We had another exciting month at One Click Contractor and can't wait to fill you in on last month's updates! Check them out below:
We're now integrated with Sunlight Financial
You can now offer financing options via Sunlight financial directly through One Click Contractor. During the price presentation, display financing options that can lead to pre-approval or have them complete a full application to see rates specific to their credit score. Learn more about Sunlight Financial here.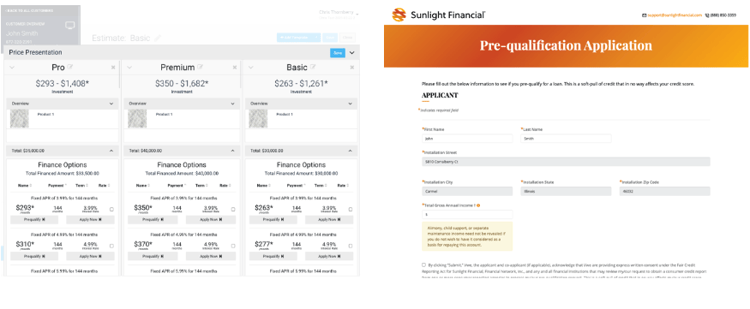 If you want to learn more about how to integrate financing into your sales process, check out the recent webinar we did with Sunlight. Access the webinar recording


Markup percentages are available
We have created a tool that allows contractors to either increase or decrease pricing based on the markup percentage they want to charge. This allows them to base pricing on materials, labor, and any overhead costs that make up their estimate by including a markup percentage across the board or on specific items only. Take control of your pricing today.

Salesforce Integration updates
The Salesforce integration will now allow you to share information across multiple organizations without duplication.

Have questions on any of our updates or want to make the switch to digital?
Schedule time with one of our consultants.