Virtual Selling
How to Advertise Your Business' Virtual Appointments
Learn three key places to start advertising your virtual appointments and grow your business.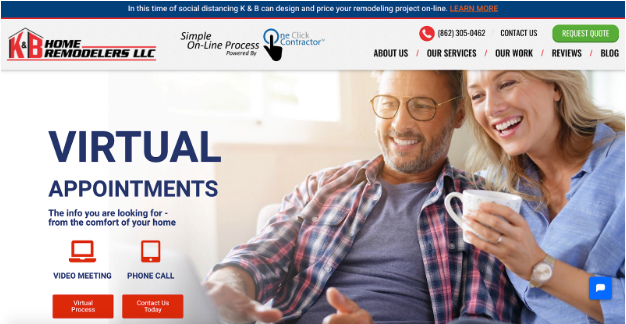 You've taken the plunge and added a virtual appointment offering to your sales process. But how do you get the word out?
Promoting your remote estimate option is important to not only get more appointments but to show homeowners you're invested in their comfort and safety. This message is great for both prospective and current clients to see.
Here are three key places to start advertising your virtual appointments.
Your Website
Your website is the online hub of your business and is a perfect place to showcase your virtual appointment information. Consider using the following placements to make it easy for homeowners to book a meeting with you:
Add a button in your navigation menu so that it will be seen on every page of your website. Use a call to action like "BOOK A VIRTUAL CONSULT."
Showcase remote appointments on your home page. The first section of the homepage is prime real estate. Use it to highlight your virtual offerings (like K&B Home Remodeling) or add a secondary call to action button directing people to virtual appointments (like Capital Construction).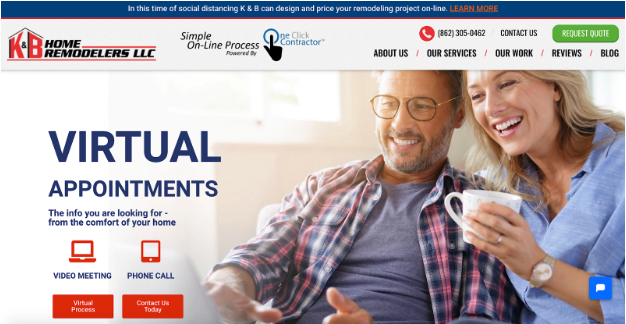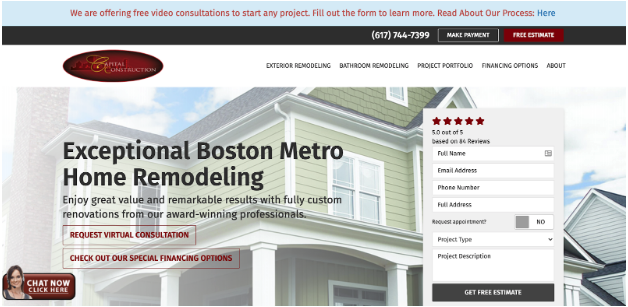 Add an announcement bar above your navigation. Make it pop with a color that contrasts with the navigation bar.
Use a pop-up. You've probably seen many pop-ups, those little windows that "pop up" on a website you're visiting asking you to sign up for their email list. These handy tools guarantee a visitor will see your message about virtual appointments and deliver a link to a form or additional content. Check out how Timberland Exteriors uses a virtual appointment pop-up to spread the word.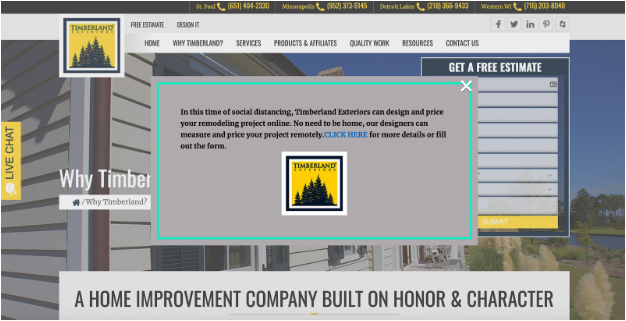 Feature the process on your blog. Your blog is a good place to explain how your construction estimating software makes the process easy and efficient for the homeowner. Highlight that virtual appointments reduce the amount of time you need to spend at their house and how they might play a role in the process, including submitting pictures. Check out this example blog post to see how you might show homeowners what virtual appointments look like.
Set up a virtual appointment page with a contact form. Give a step-by-step overview of what the appointment will look like so that homeowners know what to expect throughout the process.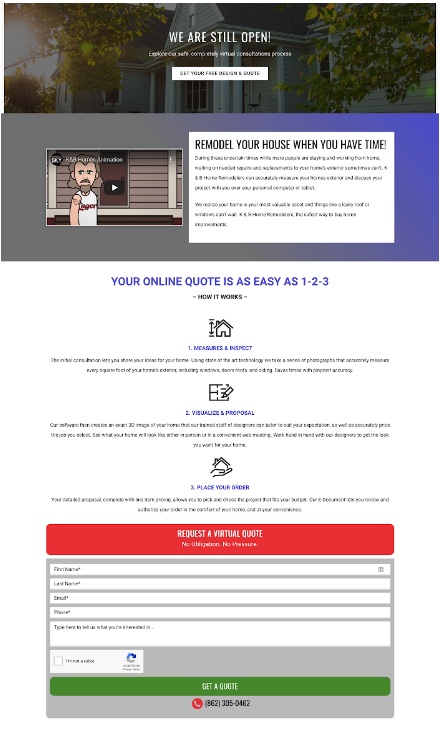 Social Media
Now that your website is squared away, turn to your social channels!
Share a post every few weeks to remind homeowners that virtual appointments are available. Include a little bit about your process. If you're able, share a testimonial from a homeowner who can share how smooth and convenient the remote sales experience was for them.
Don't forget your profile as a whole! Utilize your cover photo graphics as additional promotional opportunities to spotlight virtual appointments. Consider including the link to the appointment contact form in your bios.
Email
Do you regularly send an email newsletter? In addition to an email announcement of your new offering, you can add a banner graphic or simple line of text in the header or footer of your email template linking to the virtual appointment form on your website.
For day-to-day business, add your virtual appointment availability to your email signature so clients have easy access to the system.
No matter how you promote virtual appointments, one thing is for sure: They're a powerful way to move your business forward!
Still not sure about remote sales or struggling to streamline the process with too many apps in the mix? The One Click Contractor team is ready to help. Let's talk!