Home Improvement
One Click Contractor Employee Spotlight: Stacey Davidson
This month, our employee spotlight showcases a Customer Success team member, Stacey Davidson.
At One Click Contractor, our culture is fueled by the enthusiasm of our employees. We pride ourselves in having a fun, engaging, and innovative workplace, with a smart and motivated team that loves coming to work every day (either in-person or virtually); a team that truly makes magic happen.
This month, our employee spotlight showcases one of our Customer Success team members, Stacey Davidson. Let's find out more about Stacey, her background, and her role with One Click Contractor.

What is your role with One Click Contractor?
I am a member of the Customer Success team!
What do you like most about being on the Customer Success Team at One
Click Contractor?
I really enjoy my role with One Click. Although different from what I've done in the past, providing the best customer experience promotes loyalty and encourages retention and brand advocacy, which is greatly what I've been happiest doing over the course of my career.
Tell me about your background before coming to One Click
Contractor
I started my career in Pharma Sales and moved into Account Management in HRIT and Resourcing. Served on many committees promoting diversity, inclusion, and change management through data integrity and AI.
When you're not working for One Click, what do you like to do?
My husband and I own a garden center and a 4 acre farm animal rescue on our family farm. We have 6 adult children spread out around the country and travel as much as possible to spend time with them. We love the outdoors and have hiked in 18 national parks and summited Devil's Tower.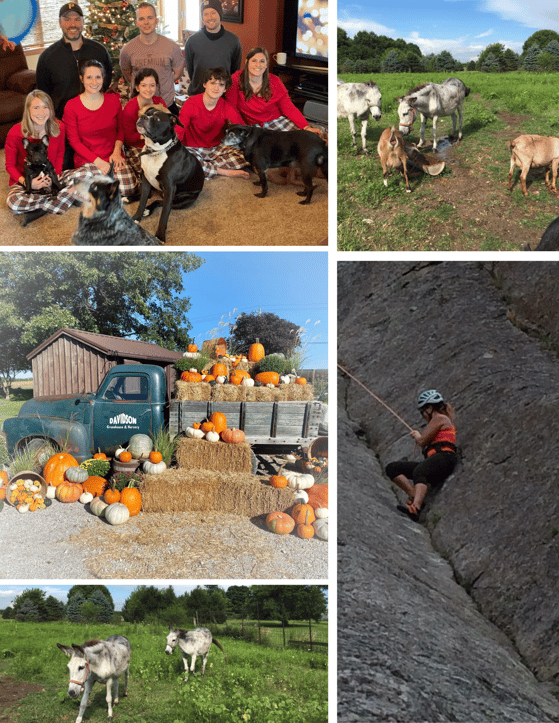 What have you always wanted to try and never have?
I've never been snow skiing. I've always hated the cold and have made multiple excuses over the years NOT to try it. But I'm running out of excuses and feel like I need to check this one off sooner than later.

What are three things about you that most people don't know?
1. I have my own CBD label
2. I love to sing (when my anxiety doesn't get in the way)
3. I'm ¼ Native American
What would you want to see if you had a time machine and could witness any historical event?
I've always wanted to be a fly on the wall when the US constitution was written or listen to Abe give the Gettysburg Address. But I'd probably just go to the Titanic and give Jack a floatation device.